Bob & Pete's Floors

Meet the Team
Get to know the names and the faces that help make Bob & Pete's Floors so special.
Bob and Pete's Floors is comprised of a team of flooring professionals who are passionate about what they do. Our team has decades of experience and a diversity of skills that range from interior design to flooring trends to custom installation and countertops. Our entire staff continually learns through education, experience, and relationships, allowing us to deliver the best possible end result for our customers.
Bob has owned Bob & Pete's Floors since 1993 and is viewed by his peers as a true leader and mentor in the industry. He is dedicated to providing a great customer experience for our clients and creating a family atmosphere for the employees and installers. His hands-on involvement in all aspects of the business is a major strength of the business, with his primary focus on sales and estimation. Bob's forward-thinking vision keeps the store a step ahead of the ever-evolving industry changes. Outside the store, Bob is heavily involved with his family — attending and coaching his three daughters in basketball and softball has been his love and passion. He serves on various local community and school committees and graciously gives his time back to the local community. Bob is married to his wife, Marti, who he quickly admits is the rock of his life and allows him to do all he does.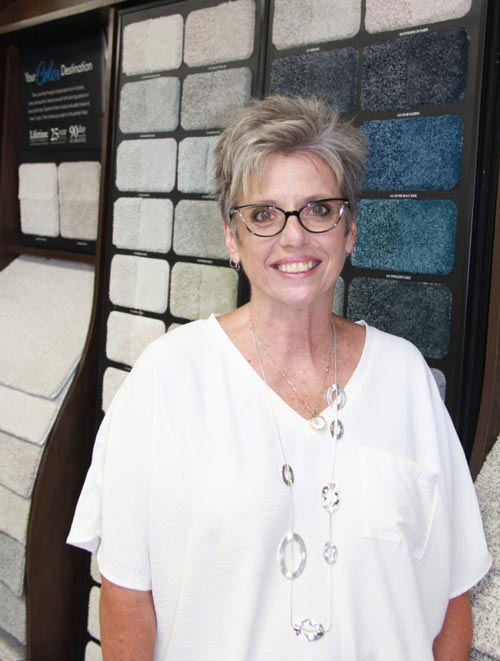 Her first interaction with Bob & Pete's was as a customer for six years before working for them, and she always felt Bob & Pete's employees were the "definition" of customer service. When the opportunity arose in June 2010, she started out as a Design Coordinator and then as a Sales Manager in 2012. Pat got her design education at the Art Institute of Pittsburgh. In 2014 and again in 2023, she was recognized as Salesperson of the Year by Carpets Plus COLORTILE at their annual convention. Pat's life's highlight is the time spent with her children and grandchildren. She lives at the lake and loves boating and amateur horticulture of her plants, inside and outside her home.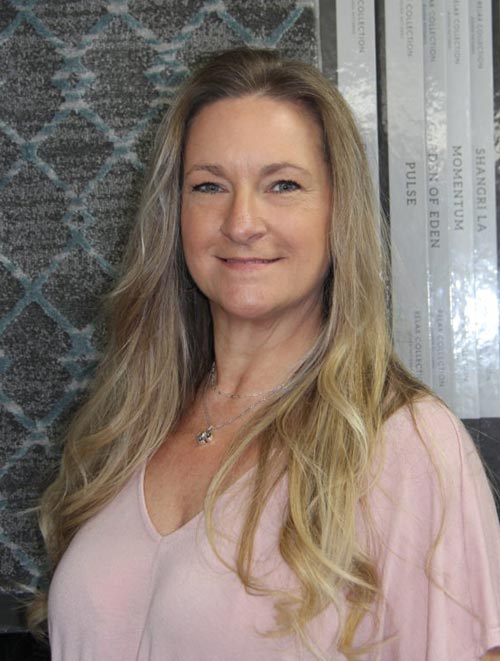 With more than 30 years of interior design experience, Dawn is one of the most notable design coordinators at Bob & Pete's Floors. She brings her discerning eye for color, knowledge of design elements, and a rich tapestry of experience to share with clients and their design projects — all while working within budget parameters. Dawn's focus and passion is to ensure her clients are comfortable with their choices and enjoy their remodeling experience. Dawn's interests include boating, photography, and traveling with her husband and family.
Tami was hired to fill a place between the sales and service department. She applies her skills and experience in administration, organization and communication to the processing of sales. She uses her keen attention to details, and ability to follow up loose ends to reviewing quotes, scheduling appointments and checking sales. Tami has a healthy sense of humor and enjoys assisting wherever needed to provide customer service to clients and co-workers. Tami earned a BA in Communication Arts from Eastern Nazarene College in Boston, MA.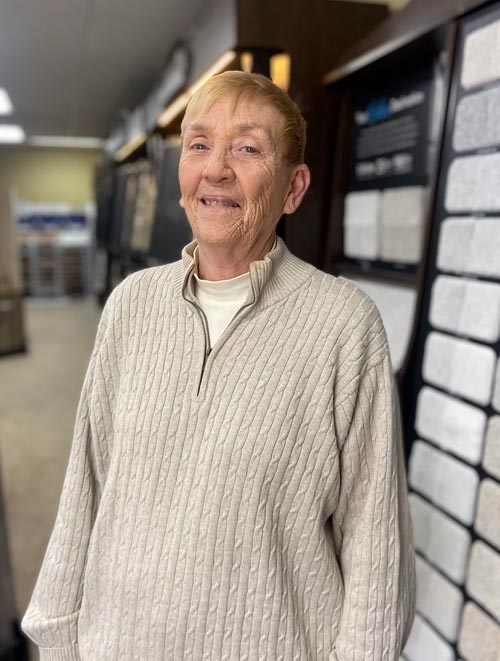 Cindi has more than 60 years of life experience. She has worked at Bob and Pete's Floors since 2015 but has been one of our customers since 2000. Her role as Sales Assistant means she works directly with our Design Coordinators, Service Team, and Guests to provide the best experience for everyone who walks through our doors. Cindi brings a strong work ethic to her position, along with a desire to provide the best customer service. Additionally, she brings her unique sense of humor, enjoyable personality, and, according to her, the need to prove that "old dogs can learn new tricks!" Her hobbies outside of work include reading, tending to her yard and flowers, and, surprisingly or not, working on her budding career as a rapper.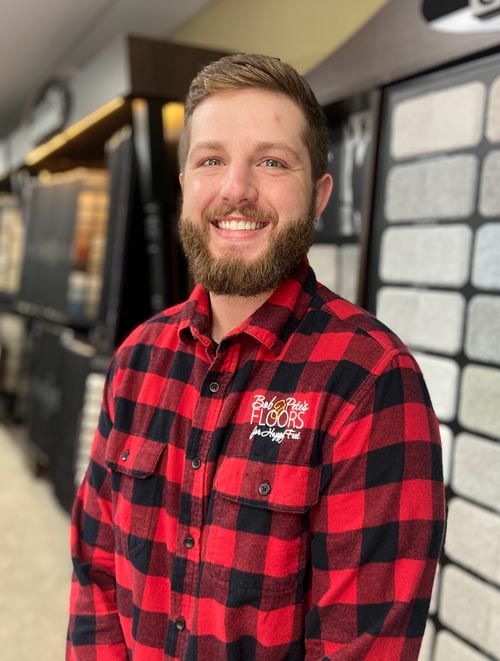 Michael Barth
Finance & Operations Manager
Michael started as the Finance and Operations Manager in October of 2021. Aside from looking for cost-saving opportunities and managing every penny flowing in and out of the store, Michael is always looking for ways to streamline efficiencies in each job family and implement effective SOPs. Michael and his wife, Morgan (both Perry alumni), love spending time with family and friends, including their chocolate lab, Archie.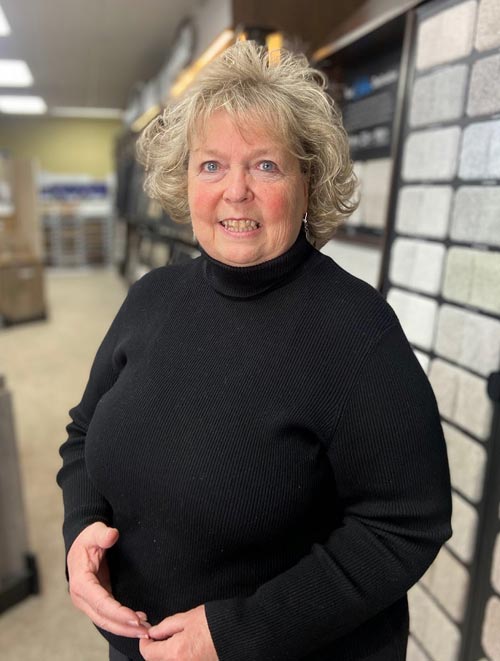 Chris Bausch joined Bob & Pete's in 2020 after retiring from a Treasury Management career in the oil and gas industry. As a part-time Finance Assistant, she supports the Finance Manager with the daily financial responsibilities at the store. Her extraordinary attention to detail and solid knowledge of accounting principles help ensure that records are updated and accurate. A resident of Perry Township, Chris enjoys spending time with family and friends, including her daughter, Lauren, and a mischievous Rottweiler pup named Kona.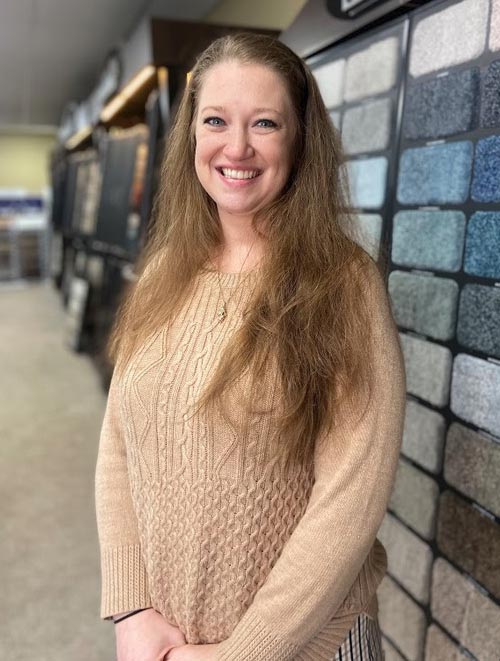 Michelle began with Bob and Pete's Floors from 2006-2008 and returned in 2014. Among the many roles she has had include purchasing, scheduling, and pricing — leading to her current role as Service Liaison, a natural fit for her talents and expertise. She helps coordinate the details and internal communication of your project. She also keeps all our pricing current, which is not an easy task in our evolving industry. Michelle's vibrant personality, beautiful smile, and impeccable customer service skills all add to the light she brings to our day, as well as yours. On her days off, you can find her spending time with her husband and two handsome little sons. They enjoy camping, hiking, and just being outside...of course, with their lovable fur babies.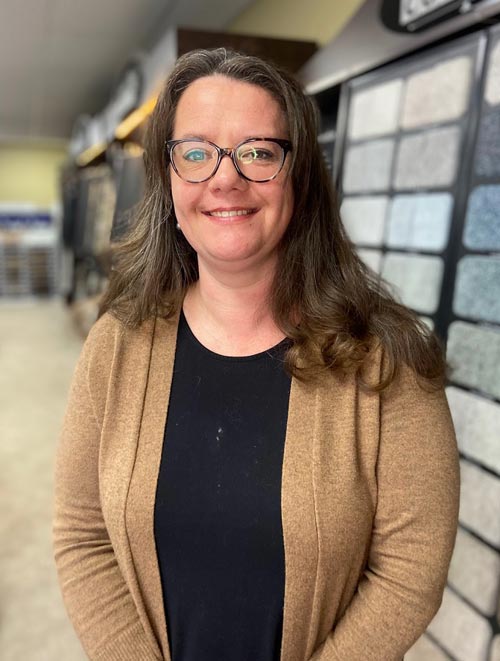 When Natalie walks into the room, everyone cannot help but smile because that is what she does – makes you smile! Starting her role as Service Coordinator at Bob and Pete's Floors in February of 2018, she is the "behind-the-scenes" person who makes your job "happen"! From scheduling our installation crews to being the liaison from sale to installation, she manages the tasks at hand, so the end result is your perfect floor. Natalie's bouncy personality always brings happy vibes wherever she goes. When she is not at our store, she is spending family time fishing, boating, scrapbooking, and always wanting to decorate for Christmas (her favorite holiday). Her husband and two sons are her world outside of work.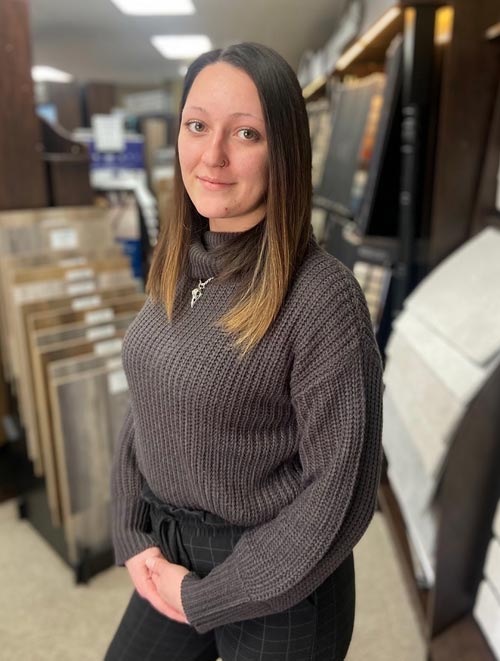 Samantha Varner
Purchaser and Claims Manager
Samantha started as the Purchaser and Claims Manager in 2021. As the Purchaser, she orders all necessary materials for each customer's project. This includes tracking material and coordinating with scheduling to ensure jobs are executed as planned. As the Claims Manager, she oversees any product defects or damages that arise. Through persistent communication with our vendors, she works toward the solution of guaranteeing customer satisfaction with their floors. Samantha's flooring experience dates back to high school when she worked part-time with her stepdad, Matt, one of our tenured installers.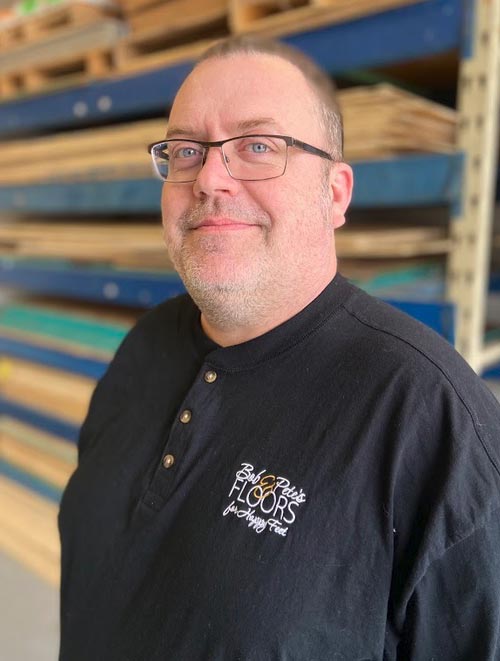 John has taken on various roles at Bob & Pete's since starting out in 2006. His father was a flooring installer since before he was born, so he was basically born into the industry — which has helped him seamlessly step into several roles at Bob & Pete's when called upon. This vast knowledge of flooring and commitment to accuracy assures that your installation will go off without a hitch. John and his wife, Jennifer, live in Massillon (Tuslaw) with their two children, Jonathan and Jacy.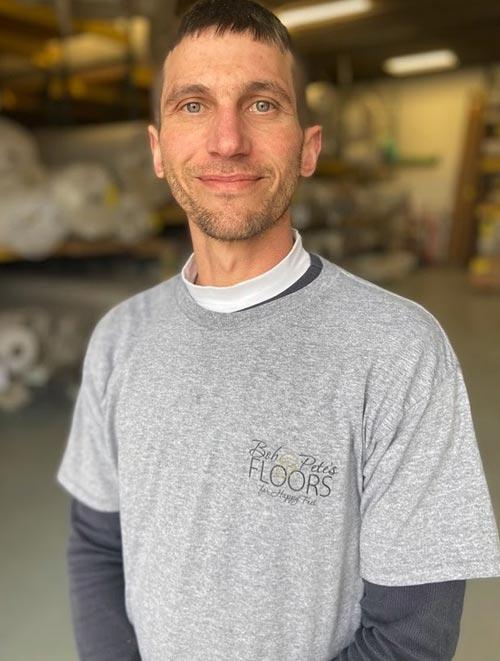 Steve has worked as the Warehouse Manager at Bob & Pete's Floors since 2013. His daily interaction with our installation crews creates a vital start to the job sites – supplying and tracking all material for every job with a passion for efficiency and consistency. Steve takes pride in his work, and his attention to detail ensures that each customer order, from flooring to precisely stained shoe molding, will be prepared for every job. Steve and his wife, Kelly, live in Perry Township with their two daughters, Veda and Blake.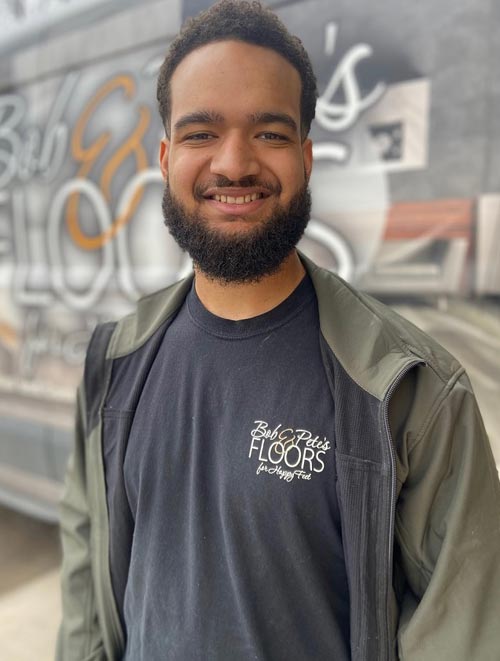 Elijah is a vital member of our team. Elijah handles various warehouse responsibilities but is our man on the run as he makes sure all the installers have material when needed and makes sure all jobs are acclimated.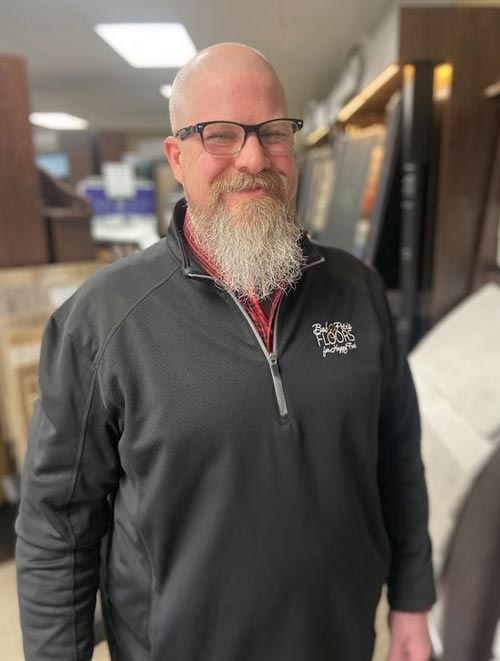 Shawn has been estimating with Bob and Pete's Floors since 2014. His background in cabinet making, millwork, and construction are all critical elements in helping to make sure our customers receive the right product for their projects. He works alongside our service and sales team as well as our installation crews to make sure your job goes smoothly, with attention to all the details. Shawn is married to Lisa; they have two children, James and Francis. He enjoys remodeling projects and always looks for something to work on around the house. Shawn likes to travel to remote areas where he can get off the grid and enjoy the outdoors.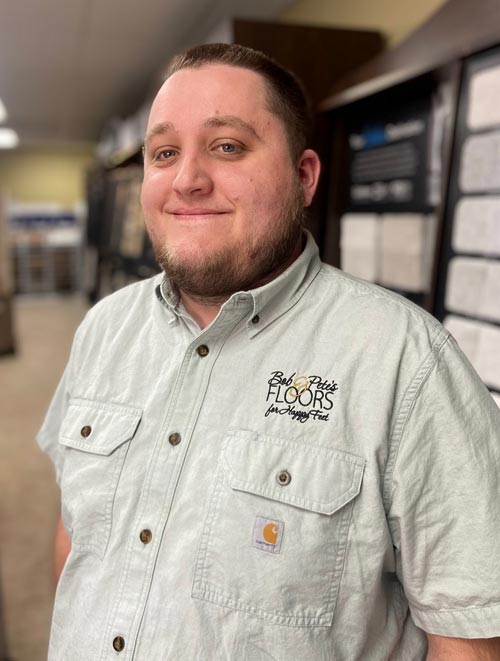 Daniel has been a Project Manager and Estimator with Bob and Pete's since 2021. He brings a wealth of construction knowledge to Bob and Pete's. He grew up in the construction field and has worked at residential and commercial sites. His extensive knowledge in the construction field will help bring all parts of your renovation together. Daniel uses his traits of being organized and detail-oriented to make sure every piece of the renovation runs smoothly. In his free time, Daniel enjoys anything John Deere related, woodworking, four-wheeling, and spending time with his wife, Kalene.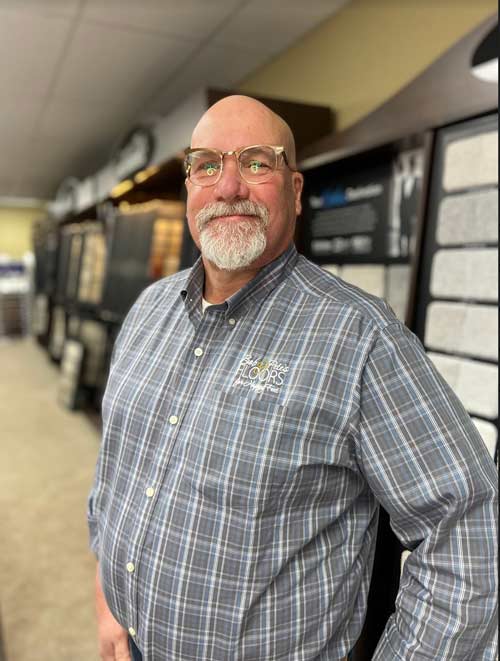 As a Project Estimator, Brian enjoys the variety of home and flooring projects he has the opportunity to take part in. His previous career was in the transportation industry, and he is thrilled to have landed with the Bob & Pete's Floors team. He is a proud grandfather of seven and a dedicated husband to his wife of more than 40 years.
Schedule An Appointment
The team at Bob & Pete's Floors in Canton, Ohio is ready to help you achieve your flooring dreams. Whether you're interested in an installation, in-home measure, flooring estimate, or more, we can help!
Fill out the form to the right, and we'll contact you shortly. 
"*" indicates required fields